PRESIDENT GREETING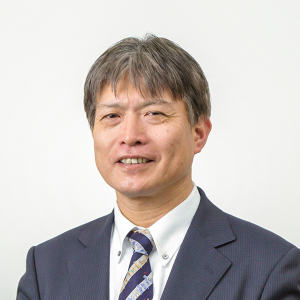 Our predecessor, Mitsui Zosen Systems Research Inc. (MSR), was established in 1986 as a subsidiary company of Mitsui Engineering & Shipbuilding Co., Ltd. (MES). In April 2018, our parent company MES recognized into a holding company system and changed its trade name to Mitsui E&S holdings Co., Ltd. Along with the parent company change, MSR also changed its name to Mitsui E&S Systems Research Inc. as a new step forward.
Over many years, we have provided the solutions and the services to the customers as their IT partner which supports their business.
Currently, IT business has been rapidly and remarkably developing, and the business model of the customers also has been changing. If the current situation continues, we will be left out by the market and the customers, so we must continuously change and grow ourselves in accordance with the market and customer needs with mind of the keyword "Speeding up of change".
Firstly, we will start with our development method such as reducing development lead time in order to provide the solutions available whenever our customers request.
This fiscal year is the last year of our Mid-Term Business plan 2017. Within this plan, we intend to expand our business fields to achieve 2020 Vision, which expresses how MSR aims to be by the year 2020. For successful results, we will continuously focus on below three points.
1, "Customers' perspectives"
In the IT business field, the data and the information have become crucially important. It is essential that not to simply depend on the data and the information we get, but also to see those information with our own eyes. We will strive to get the necessary data at a right time by our ICT skills and solve and confirm the customers' problems by standing in their shoes.
2, "Integration of Hardware and Software"
One of our unique aspects is that we have not only software divisions but also a hardware division which works for development, manufacturing, and field service.
To use this advantage, we will positively try to create the new IT services and provide the solutions that is integration of hardware and software.
3, "Growing together with our Customers"
We will grow together with our customers to catch up with the rapid change of IT environment and the dramatic change of a business model. We will strive to grow and to change for being "the partner, which the customers can rely on".
In addition to these three points, we are committed to comply with the laws and regulations and to secure information management. We will put our best efforts to meet our customers' expectations, so we really appreciate your continued support and look forward to working with you.
President, Toshifumi Morishige