MiTOX (Mitsui Toxicological Data Processing System)
MiTOX is a safety study system to achieve major cost cutting and streaming while operations of data control and practice and electronic submission compliant to GLP*, FDA 21CFR Part11 and MHLW ER/ES*. It also manages whole procedures in pre-clinical studies from planning, performance, recording and reporting. It also has a function to manage overall of both hardware and software, so that it implements efficiency of comprehensive operation and improvement in data quality in researches.
CONCEPT CHART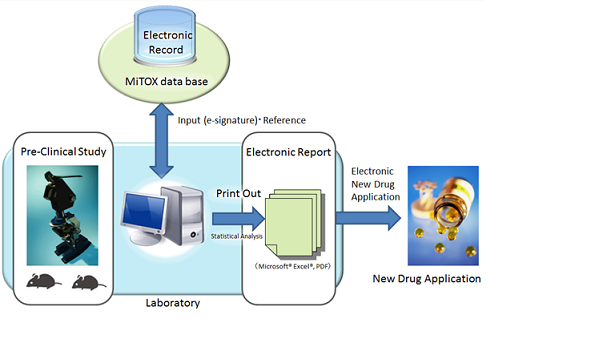 CHARACTERISTICS
Accuracy, Completed and Total Performances of Studies
Performances of studies compliant to GLP are achieved. Quality, completed and total of data are assured by managing whole procedures in studies from planning, performance, recording and reporting. In addition, it enables strict system operations of systems as operation procedures is defined which meet the researchers certificates.
Uniform Management of Data
Information of whole procedures in safety studies from planning, performance, recording and reporting are consolidated in server in real time. Enormous data from each operation room are effectively managed and controlled.
High Usability System
As operation items to be performed on the day are commanded on the screen, operations become simplified at the laboratory. As the screen is designed for anyone to input easily, it brings prevention of erroneous operations and efficiency of work. As the study schedules can be freely set, it can be used for exploratory studies.
Improvement of Work-saving and Productivity
It makes a significant contribution of speeding up to research operations by significant reduction of needless existing operation flow and standardizing and automation of study procedures.
Disaster Recovery Preparation
By any possibility of disaster, it has formulated thoroughgoing safety measures for hardware, database and applications.
Part11 and ER/ES Compliant
MiTOX has a function to perform safety studies in which FDA 21CFR Part11 and MHLW ER/ES guidelines are necessary as regulatory requirements for electronic records and signatures.
Achievement
MSR had released the first edition of MiTOX (Safety study system) at the same time as the enforcement of GLP in 1983. And later, MiTOX has been introduced and utilized in many companies (pharmaceutical companies, CRO, etc.). Achievements of MITOX introduction in Japan are 41 companies (88 systems) as of January 2014.
Focuses
MiTOX focus on the following.
・Increase productivity, improve the quality of study
・Statistical analysis by SAS
・Assurance of data integrity and quality
・Many achievements of system introduction and data submission
・Flexibility of the system
・MITOX meets the user requirements
・Fully compliant with GLP
・Real-time online processing
・Compliance with 21 CFR Part11
・Compliance with MHLW ER/ES
・Possible to export the leaf file of eCTD*
・Possible to export the dataset in accordance with CDISC SEND IG 3.0*

(*GLP)
Ministry ordinance: Nonclinical safety studies that are used to support the development of a pharmaceutical should be conducted in accordance with Good Laboratory Practices.
(*FDA 21 CFR Part 11)
U.S.C.: Electronic Records, Electronic Signatures
(*ER/ES)
ER/ES: Guideline for the use of electromagnetic records and/or electronic signatures in applications, etc. for authorization or permission regarding pharmaceuticals and other items.
(*eCTD)
Electronic Common Technical Document
(*CDISC)
Clinical Data Interchange Standards Consortium
(*SEND)
Standard for Exchange of Nonclinical Data implementation Guide for Animal
Toxicology Studies