MULTIPURPOSE CONTROLLER
MULTIPURPOSE CONTROLLER FOR ELECTRONIC CONTROL ENGINE & ELECTRONIC CONTROL UNITS
The 21st century is said to be the "Century of the Environment". The global environmental problem that has arisen at the end of the 20th century needs to be tackled seriously
In the field of low speed marine diesel engine, the electronically controlled diesel engine(ME engine) that reduces the emissions of nitrogen oxide or dust is put into practical use and the number of boats equipped with ME engines have also increased.
In accordance with this trend, Mitsui E&S Systems Research Inc(Hereafter referred as MSR) has collaborated for the licensed production of Multipurpose Controller(MPC Module) for ME Engine - Electronic Control Unit(ME-ECS) developed by MAN Diesel A/S.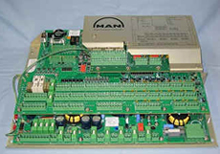 SYSTEM CONFIGURATION
Main Operating Panel (MOP)
he ME engine operational status, auxiliaries control status and each unit operational status (Operation mode, Engine rotational speed, Hydraulic System etc.) are all displayed graphically on the Man Machine Interface panel for engine driver and ME-ECS.
Backup Operating Panel (BOP)
BOP is the Desktop Personal Computer for the backup of MOP as mentioned above.
Engine Interface Control Unit (EICU)
EICU processes the External System's (Remote Control System for Main Engine, Alarming Device)interface signals. In case of bridge control and steering in control room, EICU processes the instruction frequency signal and duplicates it.
Engine Control Unit (ECU)
In addition to the automatic sequence control of start, stop and reverse, ECU also controls the No. of Engine Rotations. It also duplicates the No. of Engine Rotations to same as ECIU.
Cylinder Control Unit (CCU)
CCU controls the operations of fuel injection valve, exhaust valve, starting valve andALFA Lubricator(Electronic Cylinder Oil Lubricator developed by MAN Diesel A/S)
Auxiliary Control Unit (ACU)
ACU controls the pump of Hydraulic Power Supply Unit (HPS) and the Auxiliary system ofME engine called as Auxiliary Blower.
Local Operating Panel(LOP)
Since the ME engine is controlled on the machine side, LOP is embedded with A No. of engine rotations setting dial, Tachometer, HPS Pressure Gauge, Telegraph Receiver,various Status Indicators and an Operation Switch.
FEATURES
The system is configured with standardized MPC
Among the main components that configures ME-ECS, the MPC module is used for EICU, ECU, CCU and ACU units.
Each unit is discriminated by embedded software and a setting value.
High Quality and High Level Production Standards are adopted
Production is done by complying with the highest level IPC Class 3 as production standards for industrial electronic equipments and the equipments are top class in environment resistance. Moreover IEC standards are implemented as countermeasures against static electricity.
Production in Japan
Since production is in Japan itself, placing an order, delivery date management and after-sales service etc. are easy.
EQUIPMENT FOR TRAINING PURPOSE
Equipment for ME Engine Training purpose is manufactured by combining MSR Marine Main Diesel Engine.
Remote Control Unit "BMS-2000Ⅱ" and ME-ECS. The opportunities of learning ME Engine Operation Procedure, ME-ECS Functional Understanding, Simulation, Trouble Shooting etc. are given to the Domestic and International Ship Owners, Shipbuilding Yard and Main Engine Manufacturers.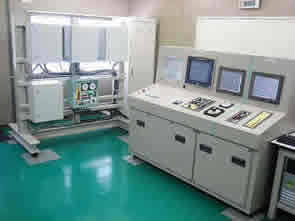 MPCs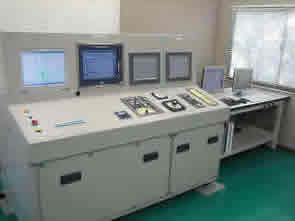 Simulator &MS-2000 II
for more informantion regarding the equipement above, please e-mail us at: